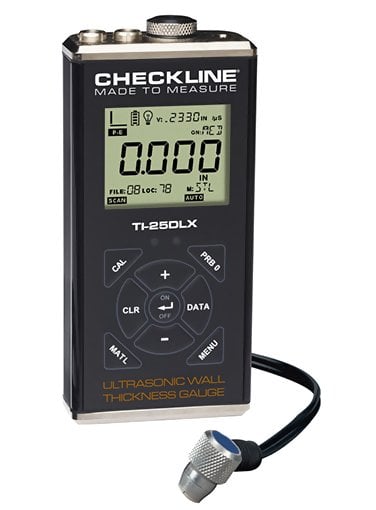 ---
Resolution:
.0001" (0.001 mm)
---
Calibrate to known thickness or Select Material from 8 Presets
---
5-Year Warranty, Made in USA
---
Datalogging:
Built-in datalogging for 10,000 data values, USB Output
---
Range with Standard Delay Line Transducer
0.0060" - 1.000" / 0.150 - 25.40 mm
Range with Contact Transducers
up to 36.00" / 915.0 mm
The Checkline TI-007DLX is a precision ultrasonic wall thickness gauge designed for high-resolution measurements on thin-wall metal and plastics. It is packaged in a sturdy extruded aluminum housing which is sealed for excellent environmental protection assuring trouble-free use even in the toughest field and production environments.
The built-in datalogger has a capacity of 10,000 data values stored in up to 40 batches with 250 values/batch which is transferred via the USB port using the supplied cable. The TI-007DLX does not require any software, it will be shown as a drive when connected to a PC allowing convenient drag-n-drop into your program of choice. Data is saved in a comma deliminated file format (.csv) which makes it compatible with all programs and software.
The TI-007DLX has measuring range in steel from 0.0060 to 1.0000 inch, (0.15 to 25.40 mm). Using a single element delay tip transducer, the gauges will measure thin materials and automatically remove any coatings in Echo-Echo Mode (E-E) as well as automatically switch to Interface Echo Mode (I-E)when measuring thicker materials, For measurement of plastics, the user would select Plastic Mode (PLAS) and use the option Graphite Delay Line Tip (p/n X-633-0000).
Additional Measuring Modes include Differential (DIFF) where a user sets a "nominal value" and the gauge displays the difference between then nominal and actual wall thickness, Alarm (user-set Hi/Low Limits) trigger Hi/Lo LED's when the measured values are out of tolerance and Velocity Mode
The TI-007DLX can also be used with single element contact transducers for wall thickness measurements up to 36 inches (923 mm).
TI-007DLX Precision Ultrasonic Wall Thickness Gauge
Probe
4 oz. bottle of coupling fluid
USB-C Data transfer cable
2 AA batteries
NIST Traceable Calibration Certificate
Carrying case
Instruction Manual
Includes NIST Traceable Calibration Certificate
Large, backlit LCD display retains last reading
Resolution of 0.0001 inch (0.001 mm) with Selectable units of inch or mm
Built-in datalogging for 10,000 data values stored in up to 40 batches with 250 values/batch with USB Output
Scan mode, 100 readings/sec. Probe is slid over a large measuring area, the minimum thickness during the "scan" will be displayed
Adjustable GAIN (AGC) in 5 steps to fine tune the gauge for use on challenging materials or applications
Can be used with both Single Element Delay Line and contact transducers (5 to 20MHz)
LCD shows Thickness Value, Velocity Setting, Gain Setting, Stability & Battery Indicators, Scan Mode, Zero and units
Operates on two (2) AA Batteries - 45 hours continuous operation
Calibrate to a sample of known thickness which automatically calculates the optimal acoustic velocity
Powered by: 120MHz FPGA timing & 100 volt spike pulser
Measure Modes: Pulse-Echo (P-E), Echo-Echo (E-E), Interface Echo (I-E) and Plastics (PLAS)
Additional Modes Include Differential (from user-entered "nominal value"), Alarm (user-set Hi/Low Limits) and Velocity Mode
Optional serial RS-232 or Bluetooth output
IP 65 Rated for protection even in the toughest field conditions
5 Year Warranty, CE-Certified and Made in USA
Range with Standard Probe
0.0060-1.0000" (0.15-25.40 mm) with standard delay line transducer in steel
Resolution
0.0001" (0.001 mm) . 0.001" (0.01 mm), user-selected units and resolution
Display
Multi-function 7 segment 4.5 digit liquid crystal display with Back-light
Velocity Range
0.0120 to .7300 in/s (305 to 18,542 m/sec)
Display Backlight
Backlight is selectable on/off/auto, and selectable brightness (Lo, Med, Hi) options
Output Optional
RS-232 and Bluetooth
Cable
4 ft. (1.2 m) with Microdot/Lemo00 connector.
Output
USB single value only (no internal memory) TI-007DLXfor a model with build-in memory for 40,000 values USB output
Operating Temperature
-22 to 167F (-30 to 75C)
Housing Protection
IP65
Battery Life
Typically operates for 35 hours on alkaline and 18 hours on NiCad
Weight
11 ounces (308 grams)
Dimensions
2.5 x 5.17 x 1.25"
(64 x 131 x 32 mm)
Warranty
Gauge: 5 Years
Probes: 90 Days
Total Measuring Range
(Steel)
0.006 - 36.000 inches
0.15 - 924 mm
(depends on material and transducer/probe type)
Measuring Modes
Pulse-Echo (P-E), Echo-Echo (E-E), Interface Echo (I-E) and Plastics (PLAS), Differential, Alarm, Scan and Velocity (VX)
Gain
Automatic time dependent gain (TDG) with manual override
Probe (Standard)
1/4" diameter, 15 MHz delay line transducer with cable (p/n T-402-5507)
Probes (optional)
Various Single Element Delay Line and Contact Transducers (5 to 20MHz)
Display Update Rate
10 Hz (10 updates/sec)
Battery Type
2x AA 1.5V alkaline, 1.2V NiCad, or 1.5V lithium AA cells (rechargeable batteries can be used)
Housing
Extruded aluminum body with nickel-plated aluminum end caps (gasket sealed)
Certifications
NIST Traceable and MIL-STD-45662A
Keypad
Sealed membrane that is resistant to both water and petroleum products
Seven or eight tactile-feedback keys
Pulse Repetition Frequency (PRF)
200 Hz (200 pulses/sec)
To Lock Settings
With gauge powered off, press and hold the "+" key while powering on the gauge
The LOCK icon will be illuminated on the Display
To unLock Settings
With gauge powered off, press and hold the "-" key while powering on the gauge
The LOCK icon will turn off
| | | | |
| --- | --- | --- | --- |
| P/N | Description | Standard / Optional | Image |
| X-231-0000 | 1/4" x 3/8" for all metals (Short) | Standard | |
| X-241-0000 | 1/4" x 1/2" for all metals (Long) | Standard | |
| X-633-0000 | 1/4" x 3/8" Graphite Tip for thin plastics (Graphite Short) | OPTIONAL | |