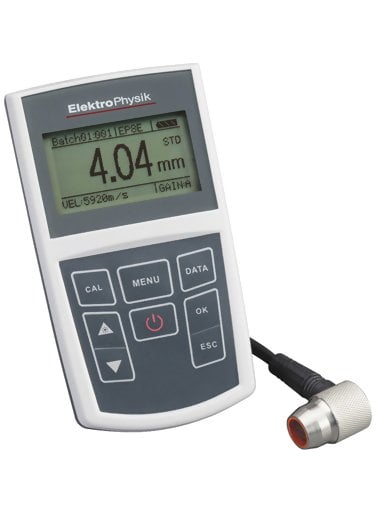 ---
Includes "Scan-Mode" to display MIN and MAX values at 10 readings/second
---
Automatic identification of probes with Auto Probe Zero
---
Several Transducers are optionally available including one for High Temperature materials (350 C)
---
Includes built-in datalogger with USB output
Sturdy and accurate ultrasonic thickness gauge based on the ultrasonic pulse run-time method.
6 ultrasonic probes with frequencies ranging between 2 and 10 MHz in different designs offer a broad spectrum of applications and thickness measurements ranging from 0.65 mm to 500 mm. A high temperature ultrasonic probe is also available, designed for measurement of hot materials with temperatures of up to 350 C.
The device is equipped for automatic detection of the intelligent ultrasonic probes and re-calibration is not required upon switching probes. The calibration data of the sensor is saved in the probe.
Uninterrupted scanning of a part for thinning is possible at the minimum mode.
Includes Factory "Works" Calibration Certificate
NIST Traceable Calibration Certificate optionally available at additional cost
Suitable for measurement of various materials including steel, stainless steel, aluminum, glass, plastics (PS/PE)
Built-in Datalogger with 5000 data values (500 values in 10 batches ) with USB Output
Includes "Scan-Mode" to display MIN and MAX values at 10 readings/second
Adjustable units inch/mm
Resolution of 0.001" (0.01 mm)
Automatic identification of probes
Automatic Probe Zero function
Uses Pulse-Echo Principle of Ultrasonics
Sensitivity can be set to "Auto" or "Manual"
Several Transducers are optionally available including one for High Temperature materials (350 C)
Warranty 1-Year
Made in Germany
Measuring range
Pulse Echo: With standard transducer U5.0: 0.8 - 350 mm (0.03 - 13.8") (For ranges of other transducers see table)
Resolution
0.01mm (0 99.9 mm), 0.1(> 100 mm)
Display
128 x 64 pixels with backlight
Velocity Range
0.0492 to .3937 in/s. 1250 to 10,000 meters/sec preset sound velocity of 9 materials
Measuring mode
Pulse-Echo
Standard: normal operation | Minimum : detection of thinnest point | Difference: deviation of reading to preset value| Alarm
Scan
High speed scan for high temperature surfaces
Probe
Standard transducer U5.0: 8mm (0.31") (For diameter of other transducers see table)
Operation Temperature
-20 to 50C (-4 to 122F)
Cable
Software and data transmission cable
Battery Type
Two AA batteries
Battery Life
more than 80 hours under continuous operation
Weight
approx. 6.70 oz (190 g)
Size
5.1 x 2.9 x 0.94" (130 X 73 X 24 mm)
Accessories Included
U5.0 5 MHz standard transducer, Operating instructions, two 1.5V AA batteries, Plastic carrying case, Coupling liquid (200 ml), cable
Data storage
10 groups with max. 500 values each
Data interface
USB
Calibration
automatic
Housing Protection
IP40
| | | | |
| --- | --- | --- | --- |
| Type | Diameter | Frequency | Measuring Range |
| U5.0 | 8 mm | 0.31" | 5.0 MHz | 0.8 350 mm | 0.031 - 13.8" |
| U2.0 | 12 mm | 0.47" | 2.0 MHz | 2.0 500 mm | 0.079 - 19.7" |
| U7.5 | 6 mm | 0.24" | 7.5 MHz | 0.65 - 50 mm | 0.026 - 1.97" |
| U10.0 | 4 mm | 0.16" | 10.0 MHz | 0.65 20 mm | 0.026 - 0.79" |
| U5.0HT | 13 mm | 0.51" | 5.0 MHz | 3.0 200 mm | 0.12 - 7.87" |
| | | |
| --- | --- | --- |
| Type | Material Temperature | Application |
| U5.0 | -12 to 60 C | on flat surfaces or huge curvature radii |
| U2.0 | -12 to 60 C | rough surfaces such as cast iron |
| U7.5 | -12 to 60 C | thin w all thickness and small curvature radii |
| U10.0 | -12 to 60 C | small tube diameters |
| U5.0HT | -12 to 350 C | for temperatures up to 350 C |