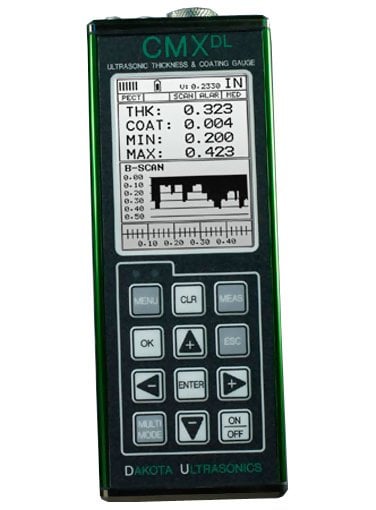 ---
Range: 0.025 - 9.999 inches - 0.63 - 254.0 mm
---
Resolution: .001" (0.01 mm)
---
Datalogging:YES
---
The Dakota Ultrasonics CMXDL Data-Logging Ultrasonic Coating and Wall Thickness Gauge Z-171-0003 measures both coating and wall thickness quickly and accuratelyfrom only one side. In addition, when switched to Pulse-Echo mode, the CMXDL automatically measures and eliminates the coating from the wall thickness measurement, enabling the user to locate the finest corrosion and pittingwithout removing the coating
Oversized graphic LCD is backlit and features easy to read fonts, graphics and display codes showing all critical settings including Velocity, Operating Mode, Alarms, Scan Mode and more. The backlight can be set to ON (always-on), OFF (always-off) or AUTO (automatically-on when measuring).
Five user-selected operating modes are included:
Coating On:Measures wall thickness using Pulse-Echo. It separately displays wall & coating thickness.
Coating Off:Measures wall thickness using Pulse-Echo. It displays wall thickness only.
Temperature Compensated:Measures wall thickness using Pulse-Echo and automatically adjusts calibration to compensate for changes in material temperature.
Thru-Coat:Measures wall thickness only using Echo-Echo. (coating is NOT included)
Coating Only Mode (CT):(Coating Thickness) Measures from 0.0005 to 0.100 inches (0.013 to 2.540 mm). Range will vary slightly depending on the coating
Dakota Ultrasonics CMXDL Data-Logging Ultrasonic Coating and Wall Thickness Gauge Z-171-0003
Probe
4 oz. bottle of coupling fluid
2 AA batteries

NIST-Traceable Calibration Certificate
RS-232 cable and data-transfer software
Operating manual
Carrying case
Special
Built-in memory with RS-232 output for transferring data to a Printer or PC
Includes Datacomm Data Transfer & Analysis Software and RS-232 Cable, FREE
Data Files can be user-set for a "grid type" structure where data is formatted in Rows & Columns or a "sequential" file where all data appears in a single column
Each "grid type" File can be set for up to 999 rows by 52 columns
Each "sequential" File can be set for up to 512 rows by 1 column
Each File can be set for "data only" or as "data plus B-scan Graphic". Memory Capacity is over 225,000 data values or over 16,000 data values with B-scan
Features
Auto probe recognition with Auto Zero or Manual Zero.
Adjustable Gain in 5 steps (VLow, Low, Med, Hi & VHi) in 2db increments providing a 8 db gain adjust range (4250 db).
Wide variety of dual-element probes can be used for nearly any application.
64 custom setups can be stored and retrieved for convenient use and labeled for easy identification
Bar graph with user-set start end values providing highest resolution around the target thickness value.
Display Hi/Lo Alarm Limits with audible and visual indicators.
Differential Mode allows user to set a "target thickness value" and display will show the DIFFERENCE between actual and target thickness as a plus or minus value.
2 Year Warranty & CE-Certified
Includes NIST-Traceable Calibration.
Metal housing provides strong protection against harsh environments.
TI-CMX-H for surface temps up to 300F/150C. Optional hi-temp probes for higher surface temperatures offered
Measures Coatings up to 0.100"
Range in Steel
Pulse-Echo Mode:Pit and Flaw detection measures from 0.025 - 9.999inches (0.63 to 254 millimeters)
Echo-Echo Mode:Thru Paint & coatings measures from 0.100 - 4.000 inches (2.54 to 102 mm). Range will vary depending on the thick
Range in Coating Only Mode
0.0005" - 0.1000" / Resolution: 0.0001"
(0.013 - 2.540 mm / Resolution: 0.001 mm)
Max Coating
0.100"
Resolution
.001 inches (0.01mm)
Velocity Range
.0492 to .3936 in./ms
1250 to 9999 meters/sec
Units
Inch or mm
Measurement Modes
- Pulse-Echo (corrosion mode)
- Pulse-Echo Coating (Corrosion w/o coating)
- Echo-Echo (thru-paint)
- Temp Comp (auto adjust for material temp)
- Coating Only (Ultrasonic Coating Gauge)
Transducer Types
Dual Element (1 to 10 MHz).
Output
RS-232 for upload/download of setups
Memory capacity
TI-CMX: None
TI-CMXDL: over 200,000 measurements
Power Source
Three 1.5V alkaline or 1.2V NiCad AA cells
Battery Life
Typically operates for 150 hours on alkaline and 100 hours on NiCad
Auto Power off:
After 5 minutes of non-use
Display
1/8 in. VGA grayscale display 62 x 45.7mm
Keyboard
Membrane switch with twelve tactile keys
Case
Extruded aluminum body with nickel-plated aluminum end caps (gasket sealed).
Temp. Limits
Ambient: -20 to 120 F (-30 to 50 C)
Material: -0 to 200 F (-20 to 100 C)
Special high temperature model TI-CMXDL-H is available for 300F/150C and optional probes are offered for higher surface temperatures
Weight, net
383 grams
Dimensions
63.5 W x 165 H x 31.5 D mm
Warranty
2 year limited
Certification
CE Approved, Factory calibration traceable to national standards

High Speed Scan Mode & B-Scan Mode

Hi-Speed Scan Mode


Scan Mode measures 64 times per second, displaying the max and min reading measured during the scan interval. Sample rate is 200/sec when coating measurement is off

B-Scan Mode


The B-Scan displays a time based cross section view of test material of the contour of the blind, or underside of a pipe or tank application. the B-Scan view draws at a rate of seven seconds per screen from right to left
Minimum Radius for Convex Surfaces
0.350" (8.89 mm)
Minimum Radius for Concave Surfaces
3" (76.2 mm)
Minimum Headroom
1" (25.0 mm)
Minimum Sample Diameter
0.150" (3.8 mm)
Minimum Substrate Thickness - F
na
Minimum Substrate Thickness - NFe
na
V-Block
Transducer Holder


The V-Block transducer holder offers the operator greater control and repeatabily when measuring on pipes and other curved areas